Is it the shoes? For pro golfers, the choice is crucial
|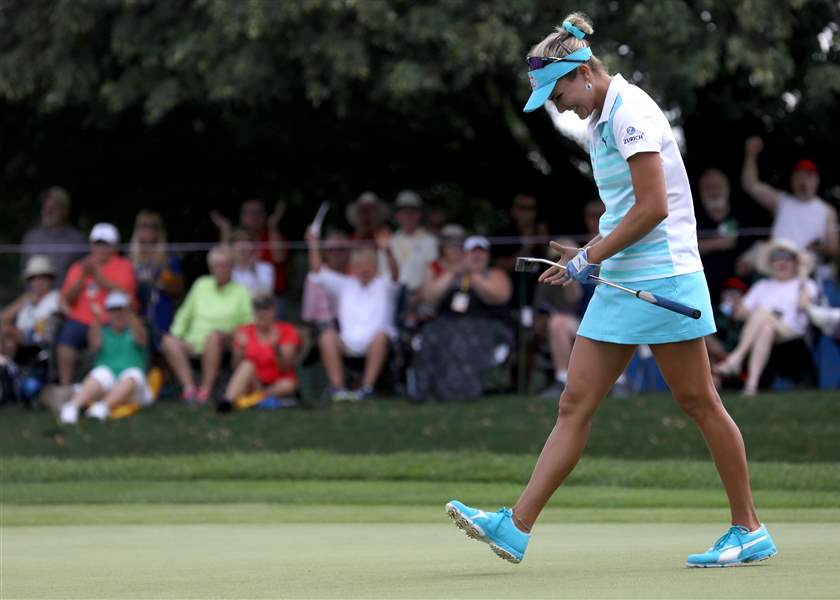 Each golf course is a six- or seven-mile walk, so professional golfers must be comfortable in their own shoes. And in the case of Lexi Thompson at the Marathon Classic last year, style is important as well.
One of golf's sacred rules is players can only use 14 clubs.
But for professionals, a 15th club on their feet can be as important as a putter or an extra wedge: golf shoes.
While weekend hackers nationwide simply drive to their local sporting goods store, try on the newest pair of Nikes, FootJoys, or New Balances and head to the cash register, professionals go through rigorous testing and research before they pick their footwear.
"Every aspect of design and development has changed," said Chris Garrett, director of consumer marketing at FootJoy. "It's really limitless."
An 18-hole round on a championship golf course usually translates into a six- or seven-mile walk. That doesn't include time spent on the driving range and putting green. In all, professional golfers spend about eight hours per day in their shoes. Comfort is king.
When FootJoy was founded in 1857, shoes were straightlined so you could wear them on either foot. The company manufactured boots for Union soldiers during the Civil War, ushering in right-foot and left-foot specific boots and shoes. The technological advances of the past 20 years dwarf what occurred the previous 130 years.
"Comfort is the first thing," said Dottie Ardina, who splits her time between the LPGA and Symetra Tours. "My favorites are the FootJoy Emerges because there's a cushion, as long they're white. I like white golf shoes. And I like them with plastic spikes. The spikeless ones are slippery."
Shoes can be tailored to a player's swing and the elements that make them comfortable are cushioning in the heel and forefoot, as well as flexibility when bending the foot in a natural stride. Stability, mobility, and traction are the hallmarks.
"If it's not comfortable, we don't make it," Garrett said.
Each week, tour reps from all the major footwear companies travel to stops on the LPGA, PGA, European, and Champions Tour events and cater to their clients. They communicate about discomfort, if the shoe is performing well, and if any adjustments need to be made. Then they pack up and go off to the next event.
"There are a lot of players who do consider footwear as equipment, so they take it very seriously and they're very knowledgeable about it," Garrett said. "There are players like Adam Scott who are very particular about their shoes. We'll give him a new prototype pair of shoes, and he'll walk us through all the features and benefits before we take him through them."
BLADE PHOTO Enlarge
LPGA pro Brittany Lincicome designs her own shoes for FootJoy and goes through at least one pair per month. She prefers white shoes.
Brittany Lincicome designs her own shoes for FootJoy and goes through at least one pair per month. She used to wear BOAs, which do not tie and instead use an adjustable ball to twist the laces tight. During a tournament in South Korea, the ball on Lincocome's shoes broke and she didn't have an extra pair. A crisis was averted when a new pair of shoes was shipped to her.
"I can literally pull mine out of the box and wear them the next day, which is amazing," Lincicome said. "I like the all-white ones because they go with every outfit. I used to color coordinate, but you'd have to travel with multiple pairs of shoes, and that's too much work."
The days of "shrink it and pink it," when men's shoes were made smaller and hues of pink were added to make them women's shoes have long since passed. As the number of women's golfers has surged in the past decade, so has the inventory and options for women's golf shoes. Data indicates women buy more than double the amount of golf shoes than men, a statistic Ardina doesn't disagree with.
"I feel like I have more golf shoes than sneakers," she said.
If you're watching a tour event and a pair of golf shoes catch your eye, 99 percent of the time you can find them at a national retailer. Golf clubs almost are universally fitted for professionals, but shoes come right off the shelf.
Amateurs enjoy the flashy looks and vibrant colors offered in today's shoes. But even if they don't realize it, their shoes are rarely the correct size. Consider it a nationwide epidemic.
"We do tens of thousands of fittings and no matter where we do it or how often we do it, 70 percent of people are wearing the wrong size shoe, which is pretty remarkable," said Garrett, noting golfers usually pick a size too big.
Another disconnect between pros and amateurs is spikes. Take a poll of friends at your local track this weekend, and you're likely to find that a majority are wearing spikeless shoes. Old-fashioned single metal spikes are dwindling, but there remains a sizeable contingent of players who still wear some form of a metal spike. It's often a soft spike with a metal nail in the middle.
"You don't want to slip," said Leticia Ras-Anderica, who estimated she goes through seven pairs of shoes per season. "I've used FootJoy since I was little. They're just so comfortable. It's really important. You can slip, and it affects your swing and your shot."
Lincicome is another player who bypasses spikeless shoes because of the slip factor. The spikeless shoe phenomenon began in 2010, when Fred Couples wore a pair of Ecco Golf Street shoes at the Masters. The man who personifies cool sent sales of the casual shoes soaring.
Mel Reid could be considered the Fred Couples of the LPGA Tour. She's a low-stress personality who makes everything look hip. The United Kingdom native has a casual style that translates on and off the golf course.
"I'm not a massive fan of golf shoes, so I think it's important that you can walk off the golf course and have dinner with friends," said Reid, who wears Nike shoes. "Obviously, you need traction too. Golf is getting modernized a bit, and I feel like people need to walk off the golf course and not have to change their shoes."
Reid cycles through a pair of shoes every month and makes sure to coordinate them with the proper outfit. She's never experienced an issue with slipping in spikeless shoes, and actually used to practice in Vans because she found them more comfortable than golf shoes.
["Source-toledoblade"]