Raleigh nightclub owner-turned-shoe brand CEO talks Salming's trek to lap Nike, Brooks
|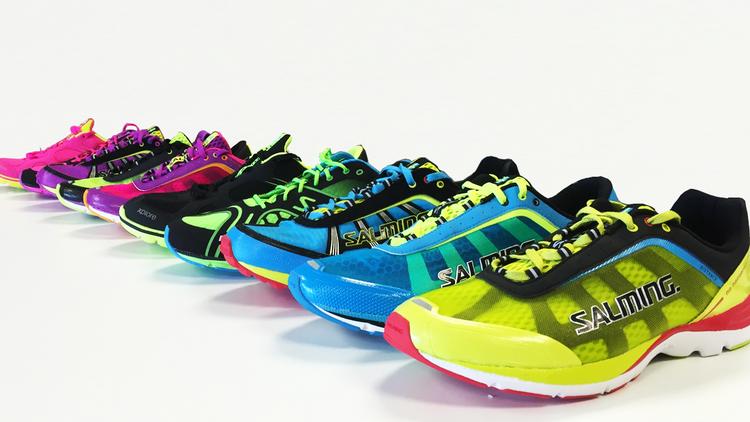 Meet Salming, a Swedish sports apparel brand known for neon colored shoes worn by serious athletes.
Right now, it's a David in a pool of Goliaths – brands such as Nike and Adidas, currently sitting at the top of the market share shelf from apparel centers in Boston and Portland.
But eventually, at least to serious runners, Salming hopes to lap the big guns with its scientifically designed products – and it's doing it from Raleigh.
That's according to Tor Swenson, the CEO of the brand's new Raleigh-based U.S. subsidiary. He's tasked with taking European sports – think Floorball, a game reminiscent of indoor hockey (where Salming has about 80 percent market share) – from obscurity to your local running store.
Previously, Swenson owned White Collar Crime, the now-closed dance club located where Crank Arm Brewery is today. For Swenson, the career change was about living a healthier lifestyle. And he has no plans to reverse course.
Salming's ultimate goal isn't competing with the Nikes of the world in your local REI or Target. Its focus is on the boutique specialty brands. Think Brooks Running, found in boutique shops – the kind of niche places where real marathoners frequent, and not necessarily your average after-work jogger. And even that niche market will be an uphill battle, as its current market share is well under 1 percent.
It's a world where Brooks dominates with nearly 30 percent market share, even beating Nike, which rates in the teens. While the numbers are higher in Sweden and Germany, it lacks the visibility to make a name for itself in the U.S. – at least right now.
But a bullish plan is in the works to get the elite runner paying attention. Salming's uniqueness lies in its science, he explains. Shoes, specially designed in Sweden and manufactured in Asia, are designed to solve running issues. And it happens through running analysis labs in Sweden, where data is collected and analyzed from individual runners.
Plans are in the works to bring a lab to the United States. It will start out as a mobile lab, hitting Raleigh running shops. Eventually, the plan is to build a solid lab location here, one that could lead to jobs down the line.
It's the latest lap in a long run for Salming, which was founded in 1991 in Sweden, but established Salming USA here only late last year.
In May, the acquisition of Canadian and U.S. distributor Floorballpro and Clutch Sports secured corporate distribution of Salming products. With the buy, the majority of the Canadian side of the operation is now in Raleigh.
Excluding the independent sales force, the U.S. arm has seven employees, four in Raleigh.
Today, the shoes are distributed locally at Runologie, Trilife, Bull City Running and Inside Out Sports. Additionally, the company has an elite racing team dubbed "The Swedish Projekt," made up solely of local runners who graduated from Triangle universities.
According to a securities filing, the U.S. subsidiary raised $20,000 this summer from a sole investor.
["source – bizjournals.com"]