LEPD appoints permanent police chief
|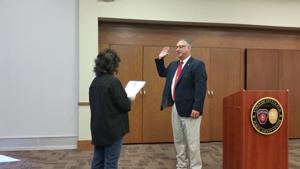 Monday, Little Elm Town Manager Matt Mueller named Rodney Harrison as the new police chief.
Harrison had served as the interim police chief until a permanent one was named.
Harrison has served various positions in the LEPD for the past four years. He said former police Chief Waylan Rhodes was the one who hired him and taught him valuable skills.
"When I was hired, I had already been in the business for 20 years, so I had my own philosophy," Harrison said. "But Chief Rhodes taught me a lot of great things, like how to deal with all levels of the public."
His chemistry with him was immediate, Rhodes said, and it was clear how good Harrison was with people. That chemistry carried over to the department, making Harrison a hit with the staff. Rhodes said the pair made a great team, and he has only good things to say about Harrison's character.
"He goes 110 mph when working," Rhodes said. "He's great at multi-tasking and will carry that into his position as police chief."
Harrison said he has plenty of objectives for the department to achieve, the primary one being a focus on community policing. Because he grew up in the small town of Port Neches, Harrison said he values the relationships between officers and members of the community.
"I want neighbors to know who their officers are," Harrison said. "I want kids to be able to go up to an officer and tell him or her they need help. I want to recreate that feeling."
The Texas Police Chief Association has a set of guidelines for agencies to follow that Harrison said he wants the department to continue to meet. If the officers are not wearing protective equipment when they should be, for example, then the department will not meet the required guidelines.
"There are different dimensions you have to meet," Harrison said. "And once you do meet those, you are at an extremely high level."
Both Mueller and Harrison agreed that Rhodes left big shoes to fill, but they are confident in the leadership and capabilities of the LEPD. Harrison said he is thankful to inherit a group of fantastic people and wants residents to know that the department is going to work to make it even better.
"I'm excited for where we're going to go," Mueller said. "And for the leadership Harrison will provide on a permanent basis. He has very supportive personnel."
As for the rest of the town, Mueller said there were also some changes. Fire Chief Joe Florentino was appointed assistant town manager and director of public safety. The LEFD will be seeking to fill Florentino's position this fall. The current assistant town manager, Doug Peach, will become deputy town manager.
["source – starlocalmedia.com"]