Heel appeal: how the sexy shoe became the new status quo
|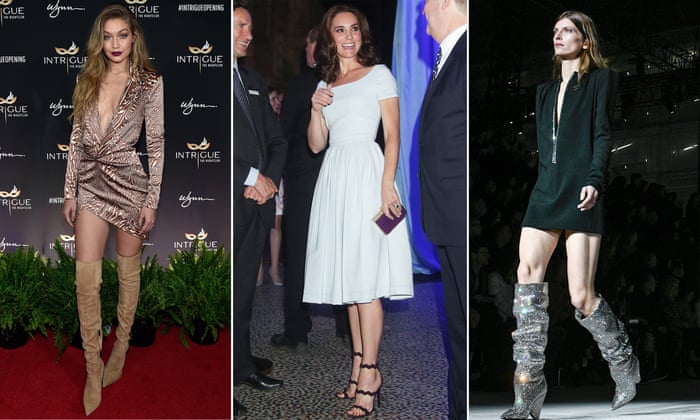 Bringing sexy back … Gigi Hadid, the Duchess of Cambridge and a model wearing Saint Laurent's sought-after boots. Composite: Getty
The Duchess of Cambridge has new shoes. On the offchance that it is not immediately obvious to you why this development is culturally significant, allow me to explain. The duchess's style is remarkably consistent: for as long as anyone can remember, she has worn pretty clothes in eyecatching colours, teamed with neutral pumps, the heels of which are high enough to look formal while remaining walkable. LK Bennett Sledge courts, which have a subtle platform sole to make them more comfortable, are a favourite. Yet, for the unveiling of the blue whale skeleton at the Natural History Museum, she wore a daringly bare, vertiginous pair of Prada sandals.
Now, the duchess is no early adopter. Conservative with a small c, she stuck with those nude pumps three years after everyone else was bored to tears with them. So, if even she is wearing a sexy shoe, the sexy shoe is the new status quo. The ultimate It shoe of the upcoming season makes the duchess's Prada sandal look like something you might slip on to buy a pint of milk. Saint Laurent's rhinestone slouch boots were a phenomenon from the moment they hit the Paris catwalk. Within days, Rihanna had Instagrammed herself in a pair with the one-word caption "obsessed". Customers were ringing stores demanding to know when there would be a waiting list to join. Net-a-Porter has spent more on the boot than on any other item this season; and months before they were visible on the site, half had been sold to VIP customers. Oh, by the way – should any appear on the open market – the price tag is £6,000.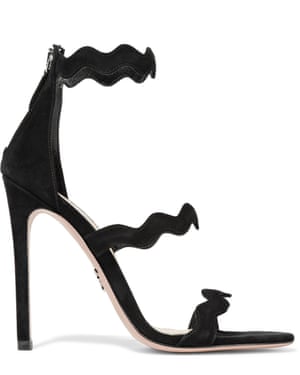 Ridiculously expensive, borderline unwearable and aesthetically outrageous – nothing new there. A shoe like that hits the headlines every season. Two years ago, it was the fur-lined, backless Gucci loafer that you couldn't afford, couldn't wear on the pavement and couldn't get on the waiting list for. Last year, the must-have shoe was anything in velvet, arguably the least appropriate fabric for a British autumn. Crazy shoes never go out of fashion.
But what has changed this season is the seduction factor. For most of this decade, fashion's focus has been outrage, rather than allure. From flatform sandals to embellished trainers, shoes have been brightly coloured, tactile and ornamented, but they have been Man Repeller shoes, rather than date-night shoes. This was in stark contrast to the Sex and the City era, when the emotional appeal of shoes was inextricable from sex and romance. The show was sometimes hilarious on the subject (Carrie's Manolo registry, when she gets married to herself in order to get more shoes) and sometimes awful (Big's shoe-closet proposal, which neatly represents the witlessness of the spin-off movie when compared with the TV show.)
The physiological purpose of a high heel is to accentuate curves by tipping breasts and bottom into an S-shape and exaggerating the sway of hips in motion. However, by 2010, two years after Sex and the City had hit the big screen, catwalk heels had become too high for this to work. Alexander McQueen's Armadillo shoes had heels of almost 12 inches and a prehistoric claw-toed silhouette that was defiantly non-sexy. By summer 2014, there was a fashion week stampede toward high-end flat shoes: crystal-studded walking sandals at Prada; couture trainers at Chanel. The Gucci loafer mania of the following year kept heels low until last year, when the wind changed with the return of the kitten heel at Vetements and Christian Dior, and the over-the-knee boot trend, pioneered by the Hadids and the Kardashians. When the new season arrives in stores, Calvin Klein's ankle strap sandals are likely to inspire a host of high-street copycats.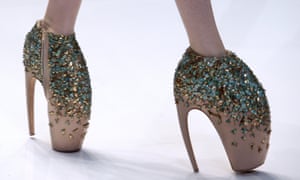 We could spin a yarn here about what these shifts tell us about ourselves. From Cinderella to The Wizard of Oz, shoes lend themselves to storytelling. But the psychology of shoes is not analogue, so analysis linking flat shoes to uncertain economic times or the return of high heels to the Trumpian, great-physical-shape mode of cataloguing women in 2017 doesn't hold water. Fashion historians have noted that in the periods immediately before revolution – in 1780s Paris, for instance – heels are often particularly high. A stiletto can represent confidence, but it can also be a portent of a bubble about to burst. Of course, we don't need to travel to 18th-century France to see the complex, contradictory psychology of shoes: look no further than the under-desk shoe-swap, whereby women wear one pair of shoes to travel to work and another to walk around the office. Sensible shoes are practical, but heels have potency. Victoria Beckham once said that she couldn't concentrate in flats and I sort of know what she means.
So it is that, at the moment when gender fluidity hits the cover of US Vogue – well, if you count borrowing your girlfriend's T-shirt – the spike-heeled delicate sandal, the most gendered of all garments, is replacing the Stan Smith trainer as fashion's power shoe. When the mercury falls this autumn, the shoes of the season will get temperatures rising.
["Source-theguardian"]