The 9 Best Women's Running Shoes for, Well, Running
|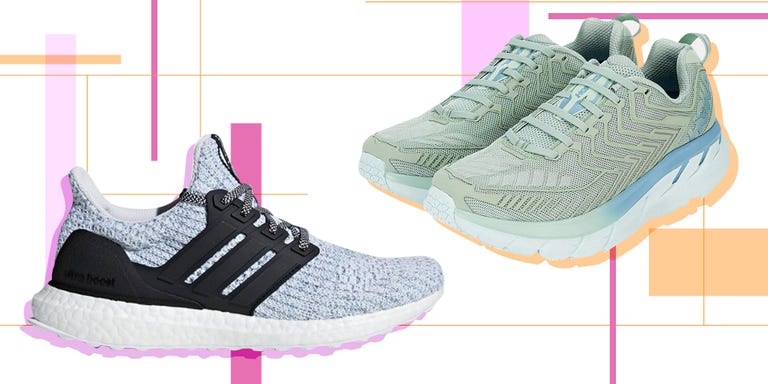 ADIDAS/ HOKA / KATIE BUCKLEITNER
Sneakers are cooler than ever, but wearing your most fashionable pair to pound the pavement could set you up for blisters at best, and injury at worst. "Fitness levels, age, and foot type can make whatever is appropriate for your feet different from what your friend wears," says New York City-based podiatrist Jacqueline Sutera, DPM, who notes that flat feet require more structured, motion-controlling sneakers, while arched feet need more support and cushioning.
While it's smart to hit up a local running store for a proper arch assessment before you invest in a fresh new pair, begin with the list below to suss out the best sneaker options based on your running style:
1
If You *Think* You Might Start Running
Asics Roadhawk FF Running Shoes, Asics.com
$60.00
If running is an activity you'd maybe like to begin doing, but you're not 100-percent ready to invest in pricey sneaks, look no further than Asics Roadhawk FF shoes. Affordable and lightweight, they feature a special sole that cushions every step with just a bit of bounce to make running feel a hint more fun than walking. An open mesh toe box helps the shoe adapt to your foot shape while letting your feet breath on longer runs if you happen to stay the course.
2
If the Only Place You're Running Is to Brunch
Under Armour HOVR Sonic Connected Running Shoes, UnderArmour.com
$110.00
Yes, even the one measly mile you run toward your mimosa matters! With a special sensor that connects to the MapMyFitness By Under Armour app, which tracks pace, distance, and even shoe life, Under Armour's HOVR Sonic Connected sneakers make sure every step is counted.
3
If You're Never Really Sure Whether You Want to Walk or Run
New Balance Fresh Foam Cruz v2 Knit Running Shoes, NewBalance.com
$84.99
When the last thing you want to do is get your workout on, lacing up is half the battle. Slip on New Balance's Fresh Foam Cruz v2 Knit sneakers, which have a cozy bootie construction and extra plush cushioning to make you feel like you're floating on clouds— regardless of your pace. And who knows? You might be so comfy you won't regret leaving your couch.
4
If You Run Off the Beaten Path
Altra Superior 3.5 Running Shoes, Amazon.com
$87.95
Altra's Superior 3.5 sneakers are designed with a special toe box that permits the big toe to remain straight, which promotes stability and power on muddy and rocky terrains. Meanwhile, the platform levels the heel and forefoot to reduce landing impact, and features a hardcore tread to prevent slips—all without the extra bulk that makes your legs feel like lead.
5
If You Run But Also Take All the Fitness Classes…
ON Cloud X Running Shoes, On-Running.com
$139.99
If you want one pair of shoes to wear on long runs and wherever ClassPass happens to take you, ON Cloud X sneakers, which have a special split sole designed to support movement in every direction, will be your go-to pair. HIIT, here you come!
6
If You Typically Run Before the Sun Rises or After It Sets
Brooks Glycerin 16 Running Shoes, Zappos.com
$150.00
With cushioning that adapts to your stride for a custom feel, and reflective design features that promote visibility on dark running routes, Brooks's Glycerin 16 sneakers are perfect for early worms and night owls.
7
If You're Prone to Running Injuries
OV x HOKA Clifton 4 Running Shoes, Outdoorvoices.com
$140.00
If you run a ton, you know not to give a sh*t about how your shoes look—it's all about comfort and pain prevention. To get the job done, Hoka's One Clifton 4 features heel cushioning and a curved midsole, which naturally promotes the ground strike running coaches swear by. Oh, and because this particular style is an Outdoor Voices collab, you'll really pull the wool over the eyes of all the cool kids when you wear them. (What orthopedics?!)
8
If Your Dad Is Your Running Muse
Nike M2K Tekno Running Shoes, Nike.com
$100.00
With a "durable rubber tread that delivers excellent traction," according to Nike's website, it's no wonder your dad would pick this practical pair out for you before tying up his own similar sneaks to jog an easy mile.
While Nike's M2K Teknos feature a cushy tongue and chunky base that provide lots of support, these features add bulk—bulk that might slow you down to your good ol' pop's pace, but keep you extra comfy.
9
If You Wear Through So. Many. Sneakers!
Adidas Ultraboost Parley Running Shoes, Adidas.com
$180.00
With a stretchy upper made from plastic bottles recovered from coastal communities, Adidas's Ultraboost Parley sneakers will help you outrun any environmental guilt triggered by wearing sneakers into the ground. The lightweight shoes aren't just good for keeping oceans free of garbage: Thanks to their  responsive cushioning, they'll make you feel like you fly off the pavement. You're welcome!
["Source-cosmopolitan"]