Same-sex weddings expected to be good for wedding-related businesses, PA economy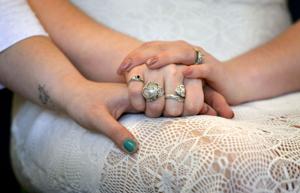 When a federal judge ruled Pennsylvania's same-sex marriage ban to be unconstitutional earlier this week, Claudia Himes was elated.
"I am thrilled that we can celebrate love and commitment everywhere and for everyone" — and that everyone will "have the day that we all dreamed of when we were 10," Himes said.
Same-sex weddings will be good for business, but "even better for society," said Himes, owner of Special Occasions & Queen Street Linens in Lancaster.
She and others who have wedding-related businesses in Lancaster County welcomed the prospect of same-sex weddings here.
On Saturday, seven same-sex couples were married at the Unitarian Universalist Church of Lancaster.
But not everyone was throwing the celebratory confetti.
"I would decline to say anything on this subject," said Jim Chudnovsky, general manager of Bird-in-Hand Bakery. "That's where I'm at with it."
Gay marriage is good for the economy, asserts a recent study by the Williams Institute, a think tank at UCLA School of Law devoted to research on sexual orientation and gender identity.
According to that study, same-sex marriage will generate between $65 million and $92.1 million for Pennsylvania's local and state economies over three years, "with a $42 million to $58.9 million boost in the first year alone."
The study points to 2010 U.S. Census data that shows that 22,336 same-sex couples reside in Pennsylvania.
Between 7,490 and 11,168 of those same-sex couples will choose to wed in the next three years, the study says.
"Spending related to same-sex couples' wedding ceremonies and celebrations (will) … generate 812 to 1,142 full- and part-time jobs in the state," the study estimates.
Himes said her business has served gay couples in the past who married out of state.
They would return to Lancaster and hold post-wedding celebrations, but these often were smaller in scale because they were held after the fact.
Now, they'll be "able to celebrate right here, where they live," she said, noting that she expects to see more elaborate receptions — which will mean more linens, more flowers, expanded menus and larger venues.
"I don't know that you're going to see too many (gay) weddings happening overnight," said Tony Gibble, a Lancaster photographer who shoots weddings. "I think that it will take a little bit of time until the idea settles in everybody's head."
Gibble and his partner, Clint Shields, applied for their own marriage license on Thursday.
They've been engaged for more than six years. Gibble proposed at midnight on New Year's Eve, as 2007 became 2008.
He and his partner didn't want to marry in another state.
"Everyone's here, and all of my fellow wedding vendors, I wanted to include them," Gibble said. "Plus, at the core … unless it's legal at home, it doesn't mean the same thing."
When U.S. District Judge John E. Jones III ruled that same-sex marriage bans should be discarded "into the ash heap of history," "It was kind of like the whole world just tipped upside-down," Gibble said. "It hasn't totally sunk in yet."
He said he and his partner haven't yet figured out exactly what kind of wedding reception they'll have.
His Facebook page, he laughed, is "already blowing up with people expecting some extravagant event."
Because he's photographed so many weddings, he said, people are expecting that his own will be perfect.
Jonnaysa Kirkham is a wedding planner and owner of Planned Perfection in Lancaster.
She said she "literally had goosebumps" when she heard the news that same-sex couples would be able to marry in Pennsylvania.
"I have so many friends who now can celebrate their union legally as a married couple," Kirkham said, noting that she "cannot wait to hold my first same-sex wedding ceremony and reception."
She said she was eager to work with "any and all couples who have found love and wish to get married."
Tina Edgell, of the Historic Revere Tavern in Paradise, said "it would be wonderful to do same-sex marriages."
She said many couples now are choosing destination weddings (24 percent of couples made that choice in 2013, according to the website TheKnot).
So Edgell said she'd welcome the business from same-sex couples, and has "absolutely no qualms about it."
Mary Beth Shenk, owner of Flowers by Paulette in Lancaster city, said she's already done flowers for same-sex couples who have gotten married in other states and then have held receptions here.
She's done maybe a half-dozen such celebrations, she said.
Now, she expects to be doing the flowers for more same-sex couples.
"Everybody should have a lovely wedding or union, so we're happy to be a part of it," Shenk said.
Tara Folker, owner of Splints & Daisies in Lancaster city, said she's also done the flowers for same-sex celebrations in the past.
She said she's not sure if gay marriage coming to Pennsylvania will have much of an impact on her business.
"I'm pretty much booked," she said. "I can only take what I can take."
But she has no objections to the idea.
[ Source :- Lancasteronline ]
About The Author
admin