Duterte declares Martial Law in Mindanao
|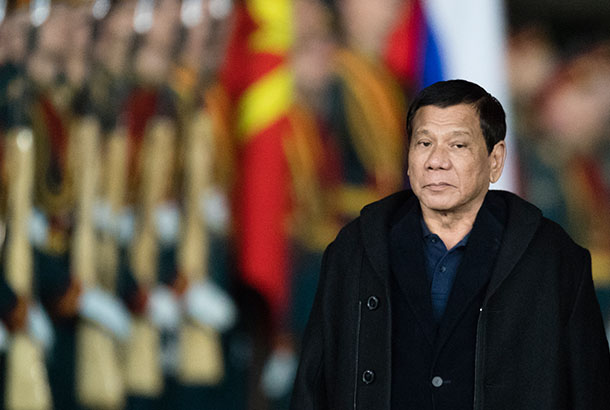 Duterte to fly home from Russia
MANILA (3rd UPDATE) – President Rodrigo Duterte on 10 p.m. Tuesday declared martial law in the entire Mindanao island amid the ongoing clashes between government troops and Maute group terrorists in Marawi City, presidential spokesman Ernesto Abella said.
Abella, in a briefing in Moscow, said the President ordered him to make the announcement.
He said martial law in the area will be in effect for 60 days, as stipulated in the Constitution.
"This is on the grounds of resistance and rebellion based on what is happening," he said.
"What the President has done is only for Mindanao including Basilan, Sulu, and Tawi-tawi," added.
Duterte's meeting with Russian Prime Minister Dmitry Medvedev will be postponed as he will leave Russia at 10 p.m. Moscow time, to return to Manila, Foreign Affairs Secretary Alan Peter Cayetano said.
He said he has spoken to his counterpart in Moscow and Russian officials understand the situation.
Putin will meet Duterte later Tuesday, rather than Thursday, the Russian press secretary Dmitry Peskov was quoted as TASS news agency.
"They understand that the President has to return to the Philippines. I will stay behind to sign agreements. The President feels he is needed in Manila ASAP," Cayetano said.
3 GOV'T TROOPERS KILLED IN MARAWI CLASHES
Defense Secretary Delfin Lorenzana said 2 soldiers and one police officer were killed, while 12 others were wounded in ongoing clashes in Marawi City.
He said the Maute group still occupies a street and two bridges leading to Marawi City.
"The whole of Marawi City is blacked out. There is no light and there are Maute snipers all around so the troops are still on holding and several groups of element already joined them from other neighboring units," he said.
Lorenzana said more troops will be brought into the city on Wednesday.
He added that the Maute group has torched several facilities: St. Mary's Church, the city jail, the Ninoy Aquino School, and Dansalan College.
"No civilians are roaming around, they're all in their houses but there are several houses that were burned surrounding the other facilities that were burned earlier," he said.
The government urged civilians on Mindanao to stay in their homes or flee if it was safe, and the military said reinforcements of an initial 500 soldiers were on the way, but were being hamstrung by rebels blocking roads.
The militants belong to the Maute group, which has pledged allegiance to Islamic State in the Middle East. Previous military offensives against the Maute, based in Lanao del Sur province, have lasted several days.
WATCH: What is the Maute terrorist group?
Witnesses told local television that gunfire was clattering sporadically around the city.
WATCH: Shots heard amid live interview of Marawi resident
Brigadier General Rolando Bautista, commander of the Philippines' First Infantry Division, said security forces were trying to locate the militants.
"Based on our assessment right now there are more or less 100 divided into groups of 10 in different locations," he told ANC.
"Since they are advocating ISIS ideology they have to show ISIS that they are a force to be reckoned with," he said, using an acronym for Islamic State.
Public Affairs Office chief Marine Col. Edgard Arevalo, in a statement late Tuesday night, said "the situation in Marawi has stabilized".
"Security forces are in full control of the situation," he said. "The armed men we are dealing with are not ISIS but members (of a) local terrorist group."
He denied initial reports that the Amai Pakpak Hospital was occupied by Maute members and the people there were held hostage.
"The Marawi City Hall was not occupied," he said. "The sporadic firefights heard were harassment actions by terrorist sympathizers that were conducted as diversionary tactics to divide the attention of the reinforcing AFP personnel."
"Follow-up operations are ongoing. We cannot reveal other details so as not to compromise operational security," Arevalo said. "Meanwhile, we fervently urge our people to refrain from posting in social media information that would tend exacerbate the situation. Especially of photos and videos on the movements of our troops and on terrorist propaganda circulating through social media." – with reports from Greanne Mendoza, ABS-CBN News; ANC, Reuters
["Source-ndtv"]