Delhi Minister Satyendar Jain Grilled For 8 Hours By CBI In Money Laundering Case
|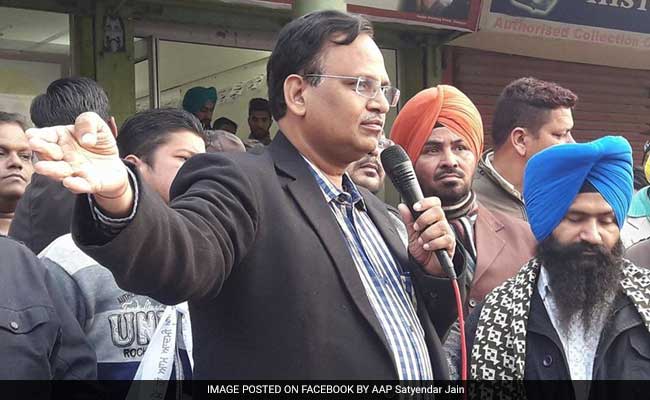 NEW DELHI: Weeks after launching a probe against Delhi Health Minister Satyendar Jain, the Central Bureau of Investigation on Thursday grilled the minister for hours on charges that he had laundered around Rs. 4.6 crores through shell companies.
Mr Jain reached the agency headquarters around 11 am for questioning related to a preliminary inquiry registered against him. As he left the headquarters eight hours later, Mr Jain refused to speak to media waiting outside the headquarters.
But there were suggestions the CBI wasn't convinced by Mr Jain's response to the questions put to him. A Press Trust of India report said the agency could soon convert the preliminary inquiry into a regular case. Before the CBI registers a formal complaint, or FIR, it has to carry out an initial probe to establish that an offence was made out.
The agency had launched the probe earlier this year on allegation that Mr Jain laundered money with help from Kolkata-based people to invest in shell companies. They allegedly bought shares worth Rs. 10 for an inflated price of Rs. 590 and used the profits to buy agricultural land in Delhi worth Rs. 27.69 crore.
Arvind Kejriwal's Aam Aadmi Party had backed the minister, insisting that the minister had resigned from the companies way back in 2013 and his investments in the company had never exceeded Rs. 50 lakh.
This is the second case in which Mr Jain is under investigation. In January, the central probe agency had said it was examining how his daughter got a job in the minister's department for the Delhi government's famed mohalla or neighbourhood health clinics.
Last October, Mr Jain was also summoned by Income Tax officials in connection with a tax evasion probe against certain Kolkata-based firms. He had then called himself the latest victim of "vendetta politics".
The minister has been at the centre of allegations hurled by sacked water minister Kapil Mishra at Chief Minister Arvind Kejriwal. Mr Mishra's first allegation was that he had seen Mr Jain hand Rs. 2 crore to the chief minister, reportedly on account of a land deal.
The minister's questioning on Thursday came around the same time that the city's anti-corruption branch (ACB) was carrying out raids at three locations in the national capital in connection with allegations of a Rs. 300 crore fraud in the health department that Mr Jain heads. The ACB, which reports to the Lieutenant Governor Anil Baijal, had started the probe after a complaint from sacked minister Kapil Mishra.
(With inputs from PTI)
["Source-ndtv"]