Two big realty deals hit the pause button, is money the matter?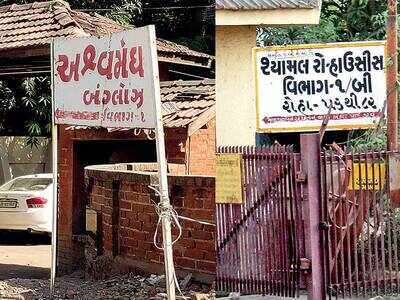 (L-R) The deal for Ashwamegh Bungalows is for at least Rs 10 crore per unit; Owners of Shyamal Bungalows have been offered Rs 5.9 crore, up from earlier Rs 5.51 crore; PICS: ANCELA JAMINDAR, NILKANTH DAVE
Two of the most talked-about premium real estate deals in Ahmedabad-sale of Shyamal row house bungalows and Ashwamegh Bungalows-have either been cancelled or put on hold. According to realty sources, both the deals have been put on hold primarily because of money.
Shyamal Bungalows are located beside Shyamal crossroads in Satellite area whereas Ashwamegh Bungalows are adjoining to 132-feet Ring Road, next to Shivranjani crossroads. Both the locations are among the most posh areas of the city with good public transport facilities and wide road connectivity.
The owners of A-1 section of Shyamal Bungalows had entered into an agreement with Third Eye group to sell their society for Rs 5.51 crore for each bungalow. However, they have now backed out of the deal. A source close to the development said that this was because a few of the owners wanted more money citing premium location of their homes (facing the road).
In case of Ashwamegh Bungalows, where each owner was supposed to get at least Rs10 crore for the bungalow, the deal is yet not through. There were plans to formalise it during the auspicious period of Navratri, but talks with the developer on how to take it forward are still on. Sources said that the developers as well as the residents have failed to reach a consensus over money and some documentation.
Sources added, "In the Shyamal bungalows deal, another developer has approached the residence and offered higher price. As a result, owners have asked the Third Eye Group to increase the amount for each home."
While the owners refused to comment, promoter of Third Eye Group, Amrish Patel, told Mirror, "We had decided to give each property owner Rs5.51 crore earlier. The draft was approved by them. However, later, they disagreed and started demanding money. We then revised the offer to Rs5.90 crore for everyone. Now it is up to them to decide and let us know as we can't afford to extend our budget any further as it can affect our project cost."
Old properties profitable
Realty experts believe there is demand for good locations for commercial projects. It makes more sense to buy an old society at a strategic location and pay a premium because of the proximity of public services, rather than buying a plot at a higher price on the outskirts of the city. Deepak Nimbark, promoter of Sharda Realty, said, "My company, in association with Shivalik group, had purchased a 78-apartment scheme (of 2 and 3 bedroom-hall-kitchen for Rs1.24 cr and 1.72 cr respectively per apartment) near AMA road. It took us a lot of time to close the deal because we had to accept the demands of owners."
According to Nimbark, societies should hold annual or emergency general meetings and pass resolution before making a formal contract so that the deal is successful. Also, developers should to check the legal aspects as well as all documents.
Real estate developer Suketu Modi said, "In case of buyout, the major reason from the house owners' side is greed for money. However, sometimes developers too may be at fault." He added, "Many a time, they agree to the payment terms and then delay the payment. Sometimes, they also take time in title clearance of each residence as checking legalities is important for a smooth transaction."
Modi who is mostly into residential and redevelopment projects added, "Though strategically located societies are preferred more for commercial projects on complete buyout condition, the delay in closing the deal can increase costs for the developer."
Societies should hold emergency meetings and pass resolution before making a formal contract… Developers should check the legal aspects and documents
Deepak Nimbark, Promoter of a realty group
In case of buyout, the major reason for delay from owners' side is greed for money. Sometimes developers too may be at fault. They agree to terms and then delay payment
["source=ndtv"]
About The Author
manage