Sunil Chhetri undeterred by low price at auctions, says money was never a priority
|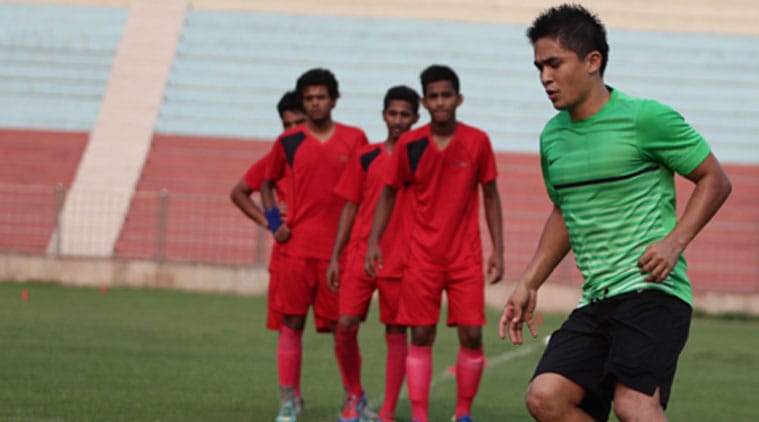 Sunil Chhetri could not trigger a bidding war among franchises in the first ever Hero Indian Super League Player Auction but the star player said he was not disappointed with the Rs 1.2 crore price tag he got from Mumbai City FC as "money was not his priority".
Chhetri, the current captain of the national team and poster boy of Indian football, was the fifth player called for auction in the star-studded event at an upscale city hotel and many were expecting that he would go for at least twice his base price of Rs 80 lakhs.
But only two teams — Delhi Dynamos and eventual buyers Mumbai — took part in the bidding for a player who has been the poster boy of Indian football since the retirement of Bhaichung Bhutia in 2011.
In contrast, rising star Eugeneson Lyngdoh was sold for Rs 1.05 crore to FC Pune City. His base price was Rs 27.50 crore.
The 30-year-old Chhetri, however, said that he was not disappointed with the price in which he was bought by the Mumbai team owned by Bollywood heartthrob Ranbir Kapur.
"I have played highest level of football for the last 13 years and fortunately I have enough money. I am not disappointed as money is not my priority," said Chhetri who has played 87 international matches and is the country's highest goal scorer with more than 40 strikes.
"I have played all over the world but have not played in Mumbai for long. So I am excited to be playing in Mumbai," added Chhetri who has played for Mohun Bagan, JCT, East Bengal, Dempo, Kansas City Wizards, Sporting Lisbon B side, Churchill Brothers and Bengaluru FC.
Ranbir admitted that he had never thought that his team would buy a player of the stature of Chhetri at such a low price.
"We have not in our dreams thought that we would get Chhetri at this price. He is such a great player, one of the best the country has ever produced. The level of a player he is, the leadership he has given to the clubs he has played and for the national team, I am shocked and surprised to buy him at Rs 1.2 crore," said Ranbir.
He said his team will have a dream combination upfront with Chhetri pairing with former French international Nicolas
Anelka who will be the marquee player-cum-manager for Mumbai City FC.
"It will be a dream combination of Chhetri and Anelka and I am really excited about that. I think we can a have a quality team this year, a team which the people of the city can be proud.
I was very disappointed at the performance of my team last year but I am looking for a turnaround this time," said Ranbir whose team finished seventh last year. Chhetri did not play in the first edition of the ISL as his side Bengaluru FC did not release him and his team-mates. Asked about the road ahead in the ISL, Chhetri said, "I could not take part in the first edition and now I am excited to be a part of it. With due respect to the I-League, this (ISL) is a fresh and very professional set-up." Asked if he was looking forward to playing with Anelka upfront, Chhetri said, "Who would not want to play alongside Anelka? He is a class player." The 28-year-old Lyngdoh, who has played just four international games but has been pivotal in the Bengaluru FC's fortunes, said he had never expected to get such a high price. "I was not thinking about the price I would command. I just wanted to play football in ISL. But it was just amazing. I have not thought I would get Rs 1.05 crore, it's quiet an experience," said the Shillong footballer who plays as midfielder. Pune City team owner Hrithik Roshan said he has never been happier to spend money for something than he did today while buying Lyngdoh and later I-League Player of the Year Jackichand Singh. "We got the players we want by having Lyngdoh and Jackichand. I have been in an auction for the first time and I was nervous initially. I know what to do acting in front of a camera but not in an auction. My heart was beating fast. But I think I have never been happier in spending money for something than I did today," Hrithik said. "We would have gone to any extent to get these twoplayers and we got them. The players get what they deserved. These two players are currently best in the country in their positions," he added. Jackichand, who was bought for Rs 45 lakhs, said he was excited to be part of the ISL. "I am excited to be playing in the ISL. During the auction, Chhetri was playing tricks to cheer me up." Another Bollywood star who attended the auction and NorthEast United FC owner John Abraham said he had come up pre-determined to get midfielder Seityasen Singh who was eventually bought for Rs 56 lakh. "We would have gone to any extent to get Seityasen. We have come pre-determined to get him and it is a relief that we got him," he said. "We have identified the areas which we need to improve upon. Midfield is one area which is pivotal and which needs to be improved for a better performance. That is why we went for Seityasen," he added. Asked why he did not go for another player from the NorthEast (four were from NorthEast out of 10 in the auction), Abraham said, "The love for football in Northeast and support from the people of the region to our team has been fantastic and we would  have loved to have all the NorthEast players in our team. "But we could not have done bidding in an irrational manner. There is a cap on the amount that can be spent on bidding. We are not disappointed that we could not get more players from the North East but we are happy that we could get Seityasen who was our target," the Bollywood star said.
["source – indianexpress.com"]