Ronnie O'Sullivan claims he was offered money to throw a snooker match
|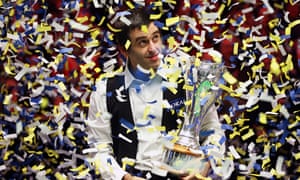 Ronnie O'Sullivan, the five-times world snooker champion, has said he was offered money to throw a match but declined.
Speaking on The Clare Balding Show, which will air on BT Sport and BBC Two this week, O'Sullivan claimed other players did accept bribes in the past but said he believed the problem had been eradicated after Stephen Lee was banned for match-fixing.
O'Sullivan said: "I was offered money once to throw a game but I couldn't do it. It's your sport, you love your sport. They smell it anyway. The risk is just not worth taking and I couldn't live with myself if I got involved in that."
In 2012 Lee was suspended on match-fixing charges and the former world No5 was subsequently handed a 12-year ban.
"I don't think it'll go on in snooker any more because they really made an example of Stephen Lee," O'Sullivan added. "They banned him for 12 years and I think a lot of the guys that were at it, they're thinking they wouldn't be able to play snooker ever again.
"So I think it's been stamped out of snooker now and if anyone was to do it, they know what the consequences are."
Three weeks ago, the Irish amateur John Sutton was banned for six years after the sport's world governing body found him guilty of match-fixing and misusing inside information.
The World Professional Billiards and Snooker Association said Sutton's offences related to suspicious betting on his match against Scotland's Jamie Burnett in the qualifying stages of the International Championship.
["source-theguardian.com"]