Skull Jewelry for the Rugged Bikers
|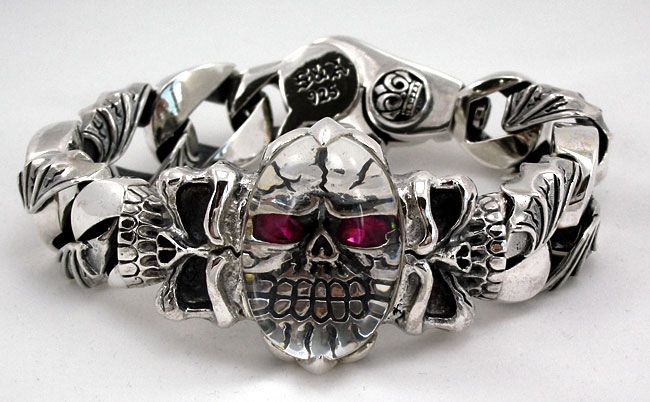 Jewelry is not only meant for women, it's a fashion statement that even men adore more often. Fashion has played a big role in promoting jewelry for men and today jewelry for men comes in a wide variety of designs. Jewelry has been an integral part of humans since centuries. There was a time when men used to wear more jewelry than women but as the time went by men restricted themselves to necklaces, anklet, bracelets and rings only. But like fashion repeats itself the trend of jewelry is getting back its lost attention from the male gentry.
Not only men are attracted towards the traditional jewelry but they are also enticed towards the untraditional form of jewelry like the skull jewelry which is quite different from the normal form. Naturally not all people like to wear skulls around their necks or fingers. But it is a fact that this sort of jewelry emits a sense of style and power and this is the reason that it is the most sought jewelry type among the bikers, celebrities and teenagers.
The other reason for inclination towards skull jewelry is that people want to look unique while other prefers it as a human evolution reminder. Nonetheless skull jewelry's love for many people can reach to a level of obsession. This includes both male and females because skull jewelry is unisexual. Today skull jewelry has very remarkable collections ranging from skull rings and skull necklaces to anklet skull bracelets etc. But the most commonly preferred collection is rings. Skull rings are made with all type of valuable materials like silver, gold, diamond studded, platinum etc. covering every price range.
The most common type though is silver with designs like Phantom Skull Ring , Mechanic Skull Wrench Ring , Cobra Skull US Army Sniper Ring , Viking Skull Thors Hammer Ring , Cyborg Skull Ring , Skull Wings Ring , Blue Eyes Skull Silver Rings, Vampire Ring ,  Two Face Ring , Tribal Sugar Skull Biker Ring , Tribal Garnet Skull Ring  etc. These designs are preferred since they gives off a modern look, making the jewelry look fashionable and trendy. Like the numerous skull ring designs there is a vast range available in skull necklaces also with numerous designs like Crown Silver Mens Necklace , Big Head Skull Chain , Big Skull Pendant Necklace , Crown Sterling Silver Necklaces , Diamond Biker Skull Necklaces , Flaming Skull Silver Necklace , Lion Skull Silver Necklace , Skull Chains Necklaces etc.
The reason behind silver skull jewelry is preferred by youngsters and biker over other valuable material is that it can be bought cheaper than other types. Beside the silver skull jewelry there is stainless steel jewelry also available in the market for those who cannot afford it but want to wear it to look unique and rugged. Stainless steel is resistant to corrosion and can be very easily molded to create complex designs. Stainless steel is very shiny and is just perfect for skull jewelry lovers.
Typically skull jewelry is not available on local stores as it has a very niche market. But if you adore skull jewelry then you can buy the best designs at bikerringshop or any other website which only targets skull jewelry lovers. These website designs skull jewelry for men and women who likes to depict boldness and attitude with freedom. Skull jewelry is just perfect for those who love to rock their inner badass style on every occasion.