Joslyn Art Museum's French jewelry exhibit showcases four centuries of dazzling designs
|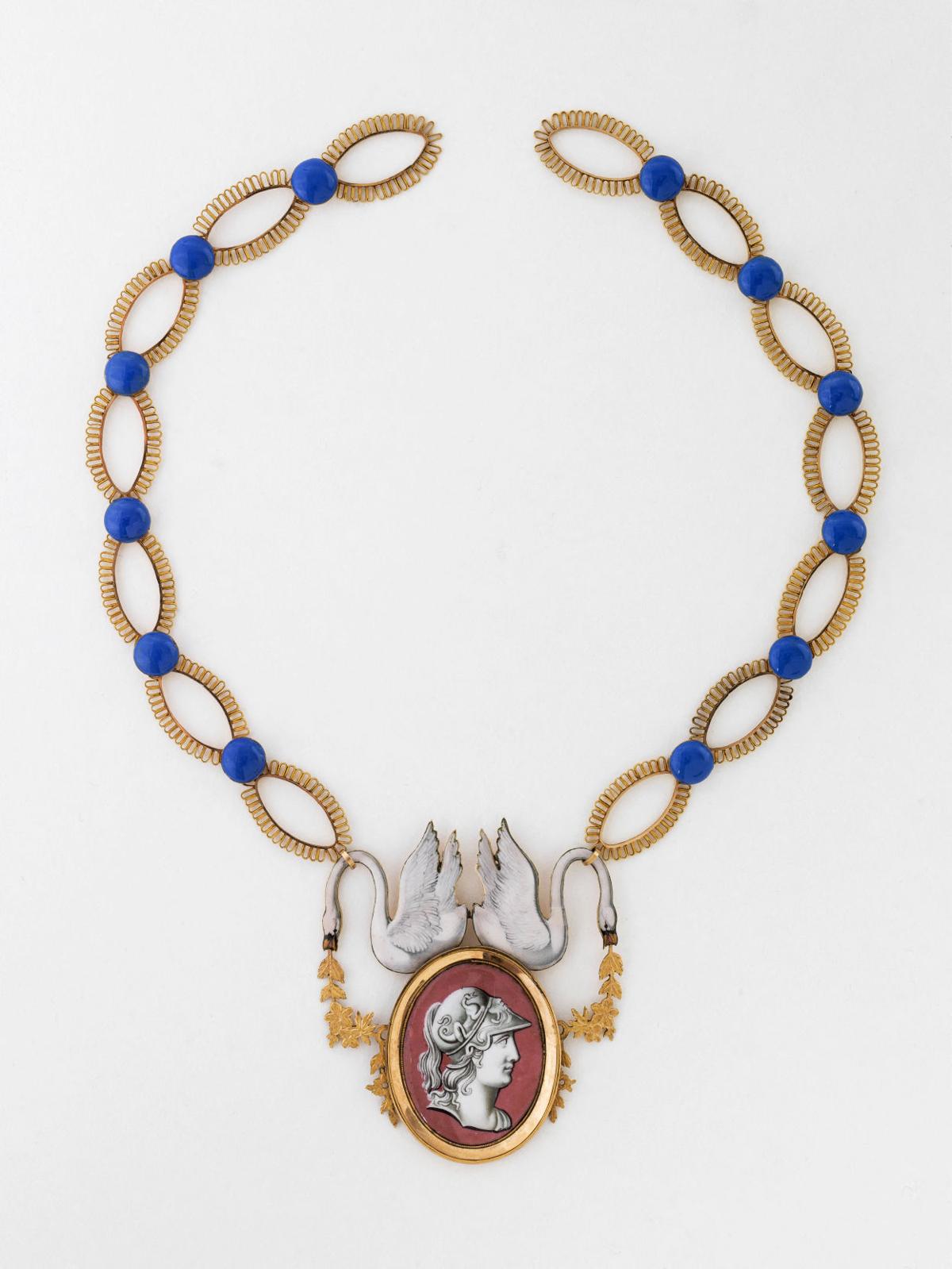 In one gallery an ornate gold, ruby and pearl pendant dating to around 1590 features the Greek virtue Charity flanked by two children symbolizing Faith and Hope. In another, a sleek gold 1950s-era chain called a "gas pipe necklace" is intertwined with glittering diamonds and platinum.
The two works have a remarkably different aesthetic, but they're equally opulent and dramatic, both ultimate statement pieces that undoubtedly showcased their well-heeled owners to stunning effect.
Displayed in the first and last galleries, the two pieces are the bookends of almost 70 breathtaking items spanning 360 years in "Bijoux Parisiens: French Jewelry from the Petit Palais, Paris," opening this weekend at the Joslyn Art Museum.
Complemented by 100 design drawings, prints, fashion plates and photographs, they tell the story of evolving trends in jewelry from the tail end of the Renaissance through just after World War II.
The exhibition is a fascinating glimpse into how tastes evolved with the times. It's also not solely focused on the razzle, dazzle, sparkle and shine of precious stones, although there are plenty of glittering diamonds, rubies, sapphires and emeralds showcased throughout.
"So many of these pieces aren't about the gems," said Dana Cowen, the Joslyn's associate curator of European art. "They're about the craftsmanship and the small, delicate techniques that give prominence and service to the objects." Those objects include more pendants and necklaces as well as bracelets, earrings, hat pins, cuff links, diadems, hair combs, vanity cases and other decorative items used to convey wealth and status.
Portraying those two qualities was a challenge that pushed jewelers to explore the limits of their craft. The French Revolution ended gaudy consumption, so gems were removed from settings and often sold.
When Napoleon crowned himself emperor, the restored aristocracy needed jewelry to go to court but didn't always have adequate funds to purchase it. Once Napoleon fell from power, the ascendant members of the French bourgeoisie wanted to establish themselves as the social elite. While wealthy, they, too, had budget constraints.
That meant jewelers — and the famous jewelry houses like Boucheron, Van Cleef & Arpels and Cartier that rose to prominence during the 19th century — had to get creative.
"A parure is a great example of how they had to think economically," Cowen said. A French word, parure means "set," and refers to groups of jewelry that included matching pieces like a necklace, bracelet and earrings. Items could sometimes be removed and swapped for other purposes. Think taking a pendant off a necklace and wearing it as a brooch, or affixing earrings to a bracelet as charms.
[Source"timesofindia"]