Jaitley Lures Gold Investors With Government Bond, Monetisation Plan
|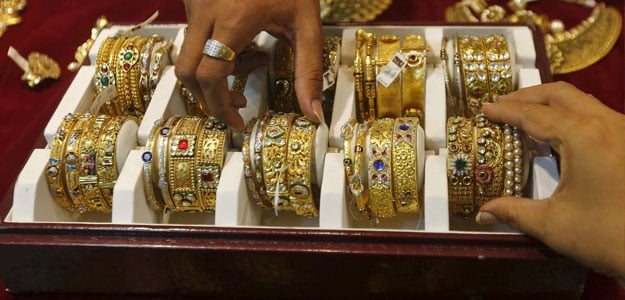 Government will soon launch a sovereign gold bond and a scheme to mobilise tonnes of the metal stored in households, the finance minister said, a move that mainly seeks to wean investors away from physical gold and cut massive imports.
The country consumes up to 1,000 tonnes of gold per year – an appetite matched only by China – to make jewellery, offer to the gods or as a hedge against inflation. Indian households and temples have stacked away more than 20,000 tonnes of gold.
But Arun Jaitley told a press briefing on Wednesday he was targeting mainly those people who buy gold as an investment and can benefit from a bond or by earning interest from banks for depositing the precious metal.
The deposited gold would be auctioned, used to replenish the Reserve Bank of India's reserves or be lent to jewellers, he said. Depositors can redeem in gold or cash depending on the tenure.
"It's safer and economically more profitable to go for both the schemes," he said, after a morning meeting of Prime Minister Narendra Modi's cabinet.
Huge gold imports were blamed for pushing the country's current account deficit to a record $190 billion in 2013, prompting the government to hike its duty on imports to 10 per cent, an all-time high.
It is, however, unclear if a gold monetisation plan will be able to curb imports. A similar plan launched in 1999 had failed partly due to low interest rates, and bankers fear a repeat unless the government funds lenders to implement the programme.
Mr Jaitley declined to give details on how the government will make it attractive for banks.
In May, New Delhi proposed that banks treat gold deposits as part of their cash reserve ratio, the share of deposits they are compelled to keep with the central bank, or the statutory liquidity ratio, the minimum amount of bonds they must hold.
But the government dropped the conditions after the RBI expressed fears that banks might hoard gold.
Mr Jaitley said the gold bond will be linked to the weight of the metal and will be issued by the RBI on behalf of the government. Its sale will be limited to Indian entities and interest rates will be decided by the government from time to time.
[Source:- ndtvprofit]