Art Deco Jewelry: A revolution in form and function
|
The end of World War I heralded a revolt against the lavishness of the Edwardian and Belle-Époque eras. 'The Great War' had torn through Europe, leaving its former cultural centers ravaged and broken. Austerity measures had stripped the nobility of its opulence, and women had stepped in to fill industrial roles left vacant by the men on the front, emancipating them from domesticity. Amid this rapidly changing environment, the Art Deco design movement emerged: Its emphasis on structure and geometry satisfied society's need for order in the wake of chaos, and celebrated the sleek, liberating forms of the machine age. Clean lines, contrast, and color came into vogue.
Art Deco jewelry embodied these new democratizing influences and aesthetic ideals in its own stunning fashion, many beautiful examples of which are available in Christie's Jewels online auction, which is open for bidding from 15-22 October. From about 1915 to 1935 — and in ways that continued to influence design through the 1940's — jewelry designers innovated alongside artists, architects, and aviators to forever revolutionize the relationship between form and function.
Fashion as liberation
The spirit that drove Art Deco was perhaps best expressed in women's fashion. Paul Poiret and Gabrielle "Coco" Chanel created clothing that liberated women's range of motion and created a more androgynous silhouette. Women began to cut their hair short, forgoing their long, high-maintenance tresses. This freer, more streamlined sensibility manifested in jewelry design as well. Large gemstones were rejected in favor of small, brilliant-cut diamonds. Art Deco forms weren't necessarily simpler, but became more linear, its patterns more geometric.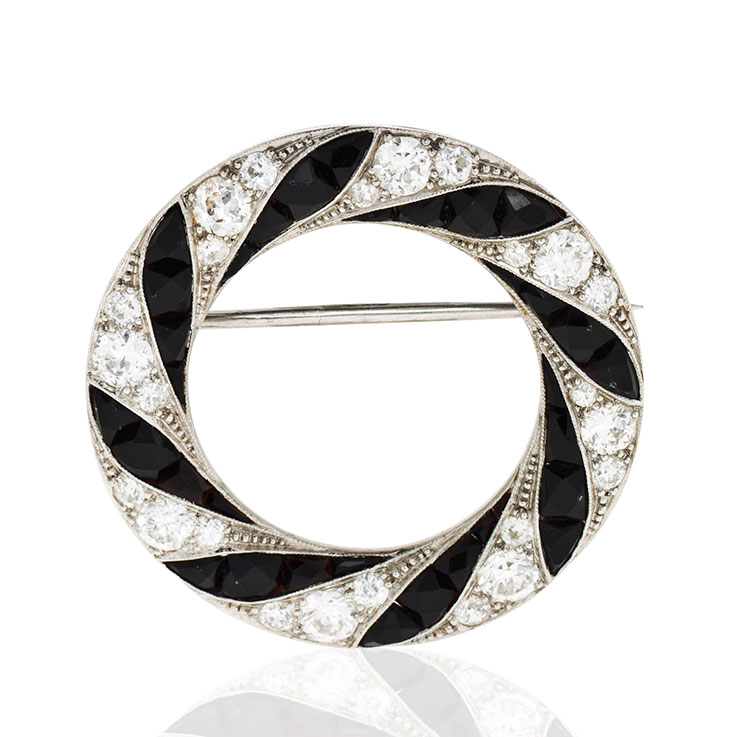 Art Deco diamond and black onyx brooch (Lot 85), Designed as a platinum circle set with alternating old European-cut diamonds and calibré-cut black onyx, Circa 1920.
Antique rock crystal and diamond bracelet (Lot 90), With an open-work lozenge-shaped design set with a frosted rock crystal and old mine diamond, extending to a band set with round, single and rose-cut diamonds, Circa: 1915.
Contrast, color, and crystal
As Art Deco jewelry designers emphasized geometry in their designs, the significance of color contrast was heightened as well. A circle brooch, Lot 85 of Christie's Jewels online auction (above left), is an example of this use of color contrast. With its calibre-cut onyx placed in stark contrast against the white diamonds—all set in a geometric, circular form— this piece encompasses all the elements of the period.
Designers at the time also frequently placed rock crystal alongside diamonds. Whether clear, carved, or frosted, the crystal heightened a diamond's brightness by contrast, while working within the same color palette. Lot 90 in the online sale, an antique rock crystal and diamond bracelet (above right), provides a perfect example.
(top) Art Deco diamond and sapphire bracelet (Lot 112), A flexible platinum bracelet set with diamonds and sapphires, Circa: 1920. (bottom) Art Deco diamond and simulated emerald bracelet (Lot 93), A flexible platinum bracelet set with diamonds and calibré-cut simulated emeralds, Circa: 1920.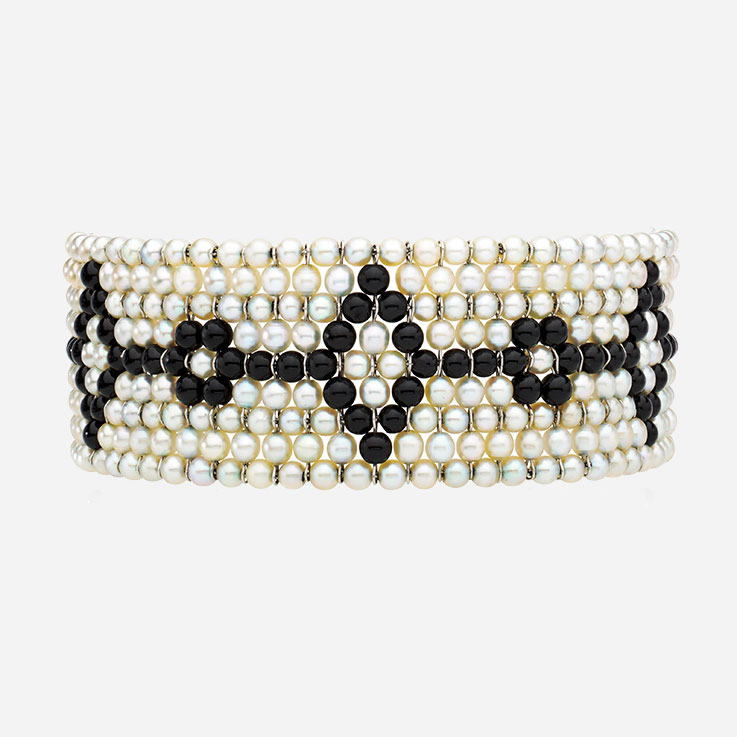 Art Deco gray cultured pearl and diamond ring (Lot 34), Set with a gray cultured pearl in an old European-cut diamond and platinum mounting, Circa 1920.
Art Deco cultured pearl, black onyx and diamond bracelet (Lot 91), Designed as a woven band of cultured seed pearls and black onyx beads with a old European-cut diamond and platinum clasp, Circa 1925.
Linearity and geometry
Linear forms were also emphasized in the Art Deco style, which is in brilliant evidence in several bracelets offered in Christie's Jewels online auction. In Lot 93 (above), green simulated emeralds are set in straight patterns to complement the diamonds and emphasize line, and the same effect is achieved with sapphires in Lot 112 (above). In Lot 91 of the sale (above right), black pearls form geometric trapezoids within the white pearls—a bold exercise in contrast and geometry.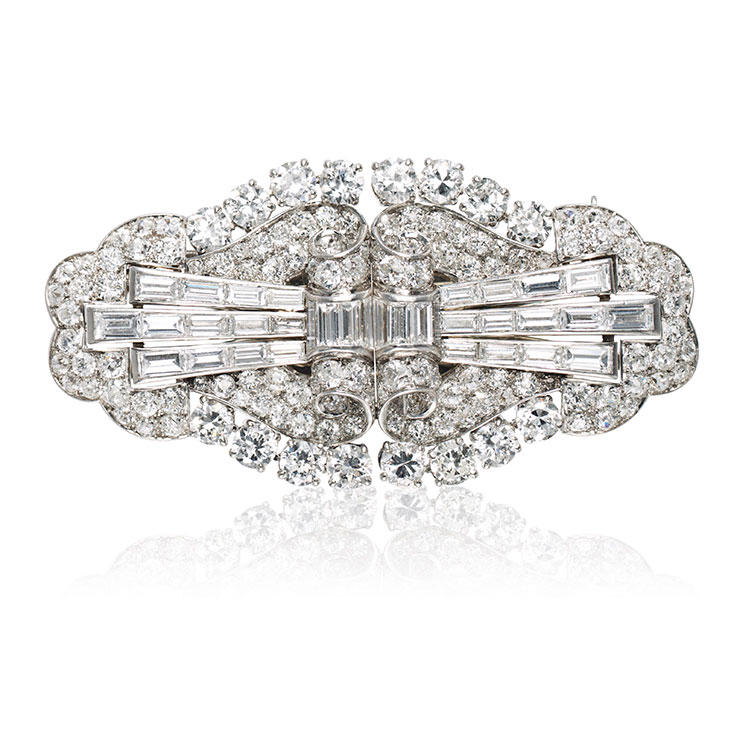 Art Deco diamond double clip brooch (Lot 111), Designed as two shield-shaped stylized scroll clips with option to be worn separately, Circa: 1930.
Art Deco cabochon ruby and diamond clip brooch(Lot 7), Designed as a buckle set with round, single and baguette-cut diamonds, and cabochon rubies, Circa 1930.
Later in the Art Deco period, when ladies' fashions acquired a more structural component, clips and double-clip brooches became very popular. Lot 111 (above left) is the quintessential example: its geometric shape comes apart into two perfectly symmetrical triangular elements. Lot 7 (above right) is another, with its single clip and unexpected burst of color from the cabochon ruby. Both pieces are still very chic today on dresses, collars and jackets.
["source-christies"]