Beachwear has gone Montagues v Capulets this summer. Two holiday looks are vying for supremacy, although they are not alike in dignity. In the Capulet corner is the kaftan crew: influencers who appear to be permanently on holiday and permanently covering up in a kaftan. File glossy-magazine editors here. One former Vogue editor, Pippa Holt, has even set up her own kaftan brand. On the Montague side is the Love Island look, all cutout swimsuits, thongs, high-cut bikinis and lots of flesh (Romeo and Benvolio would totally fit in at the villa, by the way).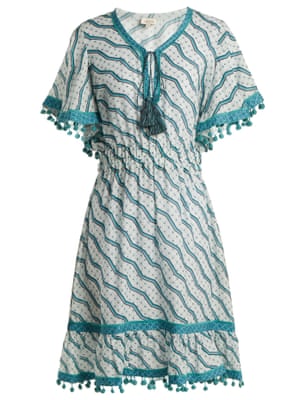 This year, the fight over your beach look isn't just about fashion companies trying to make you buy more stuff. It is notable because, until recently, to be fashionable in your holiday selfie required diaphanous layers – in line with the rest of fashion. And the wafty look – technical term – has now reached the beach. Two summers ago, the bikini was usurped in fashion terms by the sleek swimsuit. Earlier this year, the kaftan was declared the statement piece of the summer.
But Bella Hadid, Emily Ratajkowski, the population of Love Island and the costume designer behind Netflix's 1980s wrestling hit Glow clearly didn't get the memo. Here, you will find high-cut thonged bikini bottoms, a significant amount of underboob and swimsuits and leotards with cutouts across the stomach. If you catch up with the villa antics while second-screening Asos, Missguided or Boohoo, you will spot similar styles. Both Asos and Topshop have reported an increase in sales of high-leg and what Topshop calls "sexier styles" across swimwear. Covering up, as per fashion's diktat? No thanks.
What women wear on the beach is about more than just the weather, swimming lengths or building sandcastles. In fact, it could be argued that in the woke generation's ongoing debate around whether it is more empowering to show your body or cover it up, the beach battle shows personal choice is winning.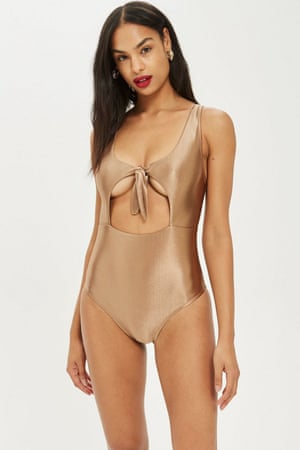 As anyone who has watched the World Cup knows, however, it is always more fun if you pick a side. If you are wavering, l​et your average weekday evening steer you. Montagues will, of course, be tuning in to ITV2 every night at 9pm to watch the likes of Georgia, Dani and Laura hang out by the pool. They avidly stalk – sorry, follow – Kendall Jenner and Ratajkowski posing in bikinis and thong swimsuits on the decks of yachts, and browse shopping sites to find their own version. Topshop has a cutout swimsuit designed for underboob exposure and – for those unconcerned with tan lines – a red swimsuit with a beachball-size hole in the middle. Just add a water bottle and intense chat on a rooftop to serve up some Love Island realness. Or dip a toe in the water and try a 1990s beach favourite – a highlighter-coloured bikini with a high-leg cut in a crinkle fabric, now on Asos for £26.
Capulets, meanwhile, probably do not watch TV, not even on their laptop. They are more likely to spend Monday night meditating for half an hour before turning the light out at 8.30pm to get their zeitgeisty 11 hours sleep. This is the fashion insider, wellness-y take on beach looks – one that is more likely to be accompanied by factor 50 and shade from an XL straw hat than full sun and lounger.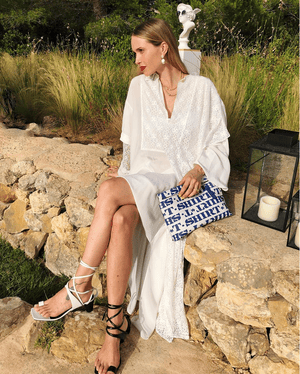 Inspo comes from the kind of influencer – Pernille Teisbaek, Camille Charriere – who gives good boho-jetset vibes. Liz Hurley is a perennial, as is Talitha Getty on a rooftop in Marrakech in 1969. Or there's Sarah Harris, deputy editor of Vogue, whose recent break in Lake Como featured selfies in no less than three equally chic kaftans. They might have been designed by Holt, or possibly Lazul, a beach-friendly label where kaftans come in at around £500. Matchesfashion.com reports that the £350 Amyra dress by the appropriately named Talitha label – half-dress, half-kaftan – is a favourite. Regular folk, meanwhile, might be buying theirs from Other Stories, Mango or Zara.
So what does the great swimwear divide mean when it comes to the state of the country? The Love Island look is the disruptor, one that ruffles the respectable crowd. A leisure centre in Somerset even felt moved to ban thong swimwear. It shows that lots of young, body-confident people – especially those on reality TV shows – will always want to show off their bodies, no matter what the fashion people say. The kaftan, meanwhile, suggests there will always be a section of the population who wants to be Getty on that rooftop. Like we said, whatever works.
This article contains affiliate links, which means we may earn a small commission if a reader clicks through and makes a purchase. All our journalism is independent and is in no way influenced by any advertiser or commercial initiative.
The links are powered by Skimlinks. By clicking on an affiliate link, you accept that Skimlinks cookies will be set. More information.
["Source-businessoffashion"]